Meet with WSSA at CONECT's Annual T&T Conference!
CONECT's 23rd Annual Trade & Transportation Conference
April 9-11, 2019
Gurney's Newport Resort & Marina, Newport, RI
Join Alison Leavitt, Managing Director of WSSA, along with many other industry experts at the CONECT 23rd Annual T&T Conference. Alison will be presenting a workshop on the opening day of the conference entitled "Ocean Trade Lane Updates" at 2:00pm and again at 3:10pm. This year, topics of discussion will include a 2018 trade lane recap, the ripple effects of unsustainably low steamship line rates, blank sailings, the effects of trade war tariffs, IMO 2020 and much more! 
The Coalition of New England Companies for Trade (CONECT) is dedicated to promoting free and fair trade and serves to support the businesses of New England that depend on international trade. This event will be comprised of importers, exporters, customs brokers, freight forwarders, port authorities, logistics providers, consultants and others active in global trade. 
Click here to view this year's conference flyer and agenda!
For more information, or to schedule an appointment, please contact us.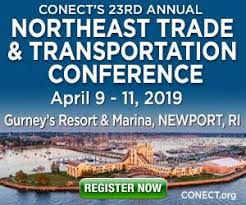 Back to Main Blog |

SHARE: