Visit WSSA at TPM 2019!
WSSA's Managing Director will be presenting at the JOC's TPM 2019! This year's conference will be held March 3-6 at the Long Beach Convention Center in Long Beach, CA, and will focus on the objective of creating value for beneficial cargo owners by addressing key problems shippers face within the container shipping and supply chain industries. If you are in the global container shipping and logistics industries, this conference is a must-attend event!
Alison will be speaking on the panel Cool Cargoes III: The BCO Perspective – What's Working and What Isn't scheduled for Tuesday, March 5th from 4:15-5:15 in Room 104B, 1st floor. A summary of what you can expect from the panel can be found below:
The demanding requirements associated with the transportation and logistics of perishable goods puts the onus on cold chain providers — ocean carriers, ports, cold storage providers/3PLs, and others — to deliver world-class products and services that support an integrated cold chain. Unfortunately for refrigerated shippers, improper handling of cargo and service failures that can be avoided or mitigated continue to occur at unacceptable rates. Ultimately, the industry — beneficial cargo owners and their cold chain partners — have a shared responsibility to better understand each other's challenges and commit to closer collaboration in order to achieve common goals such as compliance, safety, and security. In this wrap-up session to the TPM Cool Cargoes track, refrigerated BCOs representing various segments of the industry will offer a candid look at the global reefer market in a roundtable discussion that not only will address what's working, but more importantly, what's not and how can we collectively find solutions.
If you are attending TPM 2019 we would be happy to meet with you. Please contact us to schedule a time.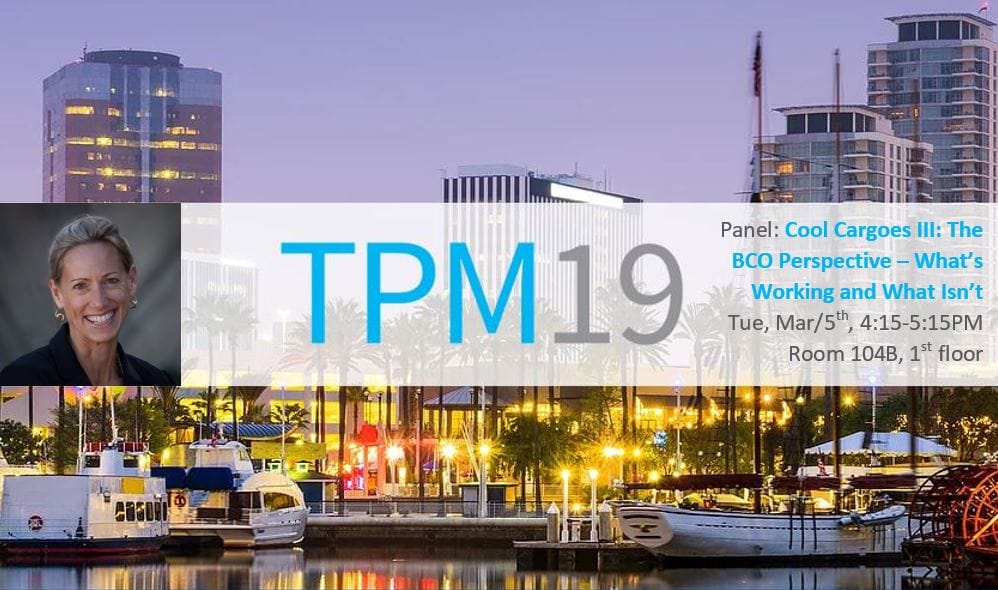 Back to Main Blog |

SHARE: