WSSA is Attending the AgTC 31st Annual Meeting!
Agriculture Transportation Coalition's 31st Annual Meeting
Tacoma, WA June 11-14, 2019
Wine and Spirits Shippers Association members are alerted to the largest national gathering of agriculture and forest products transportation professionals, coming next month. Ocean shipping, port congestion, US-China tariff war; Chassis Crisis; Low Sulfur Fuel surcharges, presidents of ocean carriers, terminal operators, trucking and rail executives, port authorities from West, East and Gulf coasts. Plus Annual Dinner, Ocean Carrier Performance Survey, boat cruise of Puget Sound, terminal and facility tours, Walk-Run, and more.
As part of the meeting WSSA will host our annual 5K run/walk the morning of June 12th. Participants will receive a special gift bag with towel, sunglasses and surprise alcoholic beverage! Please contact us for more information.
Click here for full event details, agenda, registration, hotel and activity information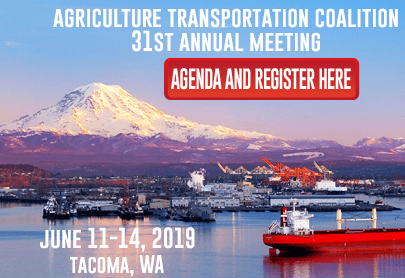 "The principal voice of U.S. agriculture exporters in transportation policy" – Journal of Commerce 
"The leaders on transportation issues…the Agriculture Transportation Coalition, which includes agriculture exporters and importers and freight forwarders as well as agriculture trade associations and state departments of agriculture" –National Journal
Back to Main Blog |

SHARE: